About Eternal Ways
ETERNAL WAYS is a multimedia publisher/producer of movies, books, online learning, and music. We are champions of creativity, education and spiritual growth: Learning is Good! The company was founded in 2010 by filmmaker/creative director, John Pritchard (bio below).
During 2018 and 2019 we will be touring our feature film, ONE HEART - ONE SPIRIT, to colleges and universities around the world. The movie was shot in Australia and follows Native American performing artist, Kenneth Little Hawk, as he travels to northern Australia to meet the 40,000 year old Aboriginal culture of the Yolngu Nation. See the first couple minutes and trailer at onehearttribe.com where you can also download the official movie poster.

In 2016, we created the ONE HEART - ONE SPIRIT 501c3 Project and, in 2017, published an official full-color, 60 page Guidebook as a PDF, Kindle, and "Movie-in-a-Book™" available on the iBookstore and at iTunes University for the iPad and iPhone. Visit createkinderworld.org for your free download to "Help Create A Kinder World" based on 13 video clips from the movie. We also released the groundbreaking SEE THE MUSIC DVD/Streaming Movie featuring synchronized music visuals created from the 2015 VyZ Freedom CD. Visit vyzmovies.com for more info and purchasing.
In 2015, we completed our first Music for Meditation album, SYMPHONY OF HEAVEN, which helps people reduce stress and more easily meditate for longer sessions. Visit symphonyheaven.com.
In 2014, ETERNAL WAYS produced Ron Mercier's joyful online video course, LIVE WITH MORE DIVINE LOVE, created from the "Imaginal Way" chapter in his SOULSCAPES book. Join Ron on how to use your imagination to bring more divine love into your life every day: Imaginalway.com.
For 2013, ETERNAL WAYS announced its first two iPad "Movie-in-a-Book™" projects on the Good Medicine radio show in Bennington, VT on December 7, 2012: SoulScapes - Imagination: Soul's Bridge to Spirit by Ron Mercier at ronmercier.com, and REAWAKEN - Share Your Spiritual Genius by John Pritchard at reawakenproject.com.
In 2012, ETERNAL WAYS released a new online training program for musicians, "Freddy's Guide to Creative Improvisation," featuring Berklee College of Music professor, Fred Lipsius, who is a Grammy Award winner with 9 Gold Records as an original member of Blood, Sweat & Tears. The training contains over 300 video clips of Fred teaching from his book ($29.99) of the same name and is available as a $99 yearly subscription and also as a 3-Disc DVD Series ($99). Visit freddysguide.com
Another 2012 release was the inspiring book, "The Common Thread That Binds Us," from Native American master storyteller Kenneth Little Hawk and Beverly Miller. It celebrates the "Wisdom of Diversity" in the workplace and promotes respect for all people. The $14.99 book is currently available for sale at Amazon.com and is available as an online eBook at kennethlittlehawk.com/common.
Our first children's book, "BUNNY'S MAGIC KEY," was released on Easter 2012 and is available as "A Storybook to Color" in b/w, a full color Softcover book, and full color Hardcover book at kathrynpritchard.com
In 2011, ETERNAL WAYS released John's highly acclaimed movie, "REAWAKEN," which has been seen by over 30,000 people around the world who call it "Enlightening," "Amazing," and "Beautiful." The movie is also available as a book that features 33 video clips from the movie. Read the book's Foreword below. Visit reawakenproject.com
ETERNAL WAYS is located in the Berkshire mountain valley of Williamstown, MA, and promotes the simple motto that "Learning is Good!".

BIO - John Pritchard

John is an award-winning filmmaker, creative director, author, and multimedia publisher. Born in NYC in 1961, he has traveled the world: China, Japan, France, Switzerland, Greece, Netherlands, UK, Argentina, Brazil, Peru, Columbia, Venezuela, Costa Rica, Jamaica, Mexico, Canada, and throughout the USA. John has directed and produced 5 educational films as well as developed commercial software products and provided multimedia consulting to Fortune 500 and Advertising firms such as BBDO, Young & Rubicam, Saatchi & Saatchi, Time-Warner, McGraw-Hill, Canon, Simon & Schuster, Bear Stearns, Citibank, and American Express. His multimedia career began in 1987 by founding one of the world's first interactive companies, Applied Imagination, to work with Apple and Microsoft on cutting edge educational projects. John developed his passion for Indigenous culture when he worked with Mohawk students on the Akwesasne Reservation as an undergraduate and Asst. Director of the St. Lawrence University Upward Bound Program (1980-86). Awards: Winner of Best Indigenous Documentary at the 2017 Melbourne Documentary Film Festival; Winner of Best Online Video Website for John Lennon Project; Winner of the $100,000 McGraw-Hill New Media Design Contest; Grant to film in China by Jeanne Scribner Cashin Endowment for Fine Arts.
---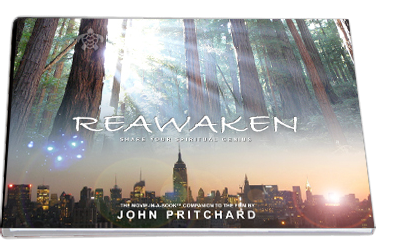 Read the Foreword to REAWAKEN by John Pritchard

Foreword
"No pessimist ever discovered the secret of the stars, or sailed to an uncharted land, or opened a new doorway for the human spirit."
—Helen Keller
Life is most definitely an adventure and it is up to each one of us to make it the very best we can. Scientific studies in how the mind affects the body at Harvard Medical School have proven that a positive or negative attitude is what makes the difference in whether or not we live a healthy and productive life.
For myself, I am a huge believer in optimism. Living life in the affirmative is critical to feeling happy and successful. It is truly a matter of choice. How we think, act, and feel is up to us. We need to trust our intuitive, common sense and be mindful about not creating a negative state of being. Negativity can really hurt us in both the short run and the long run.
For me, the glass is always half full. I choose to be happy. I choose to love life. I choose to be creative. We all have a choice.
Through fifty years of living in a hundred different ways, I have learned that I am responsible for my own well-being. I lay no blame on others when I experience failure. I am certain, without question, that I am the captain of my ship. I also completely reject the cynical view that hope and love are overused, optimistic clichés. To paraphrase Helen Keller; no pessimist ever opened a new doorway for the human spirit.
I say there can never be too much love or too much joy. Living on the brighter side of life is both a survival strategy and the first step toward tapping into our own creative and loving heart: Our Spiritual Genius.
Like so many other successful people who carry an upbeat attitude, optimism has become the driving force of my life. I admit to falling victim to pessimistic thinking during very difficult times, but, through thick and thin, I have learned how to stay upbeat. And it does take work, but it is truly worth it!
Optimism is a way of life. But it isn't just about positive "la dee da" thinking. It's an energized outlook illuminated with hope and courage. I make a conscious effort not to let despair weigh me down. It is all about looking ahead with a hopeful attitude. As my mother used to teach: "Breathe in the good and exhale the bad."
When we take responsibility for our life, we create new opportunities.
In the opening quote of the REAWAKEN movie, we read the words of Henry David Thoreau: "We must reawaken, not by mechanical means, but by an infinite expectation of the dawn."
This is the optimism Helen Keller referred to. We need to look forward and expect good things from life. It is up to each one of us. We must bravely choose to give no quarter to those negative voices that rumble through our head. Like an Olympic athlete, competing in front of the entire world, the key to victory is to imagine the best outcome and dream it into being. Visualize the end result and act as if it has already occurred. This is an inborn ability we all possess. We can create anything in an instant in our minds. From that originating inception point it is a simple matter of putting it into practice. One foot in front of the other, along a new path, doing our best to remain balanced on the road ahead.
Which brings us into the sacred arena of belief. Do we believe the road we have chosen is going somewhere we truly want to be? Do we believe in our true, authentic, inner spirit or are we run by our egotistical personality? We each have our own journey to take and what we choose to believe determines what we experience. If you believe in goodness, great. If you believe in godness, even better. If you believe in giving your respect and compassion to all life, then you will experience that respect and compassion. This is what I am talking about. Life mirrors back what we believe and our beliefs determine the actual road we walk.
What goes hand in hand with our beliefs is our imagination. I truly believe that with persistence, we each experience whatever we imagine in our mind's eye. Note the word persistence. When we persistently imagine an idea or future event, we create frames of reference and literally breathe life into what we are focused on. With laser focus and persistent attention to our vision, I believe we quite naturally manifest the invisible into physical form. Every invention known to humanity began as an invisible idea. This is how the spiritual genius within every one of us works: imagine it and you can create it.
Imagination is wondrous and powerful, and what we focus it on is of the highest importance. Imagination lets us see our life in the future and with practice, we can use it to change what we see there, and then act accordingly. It is a law of the Universe that what we focus on and what we verbalize always comes to pass - although not usually in the immediate "I want it now" time frame we would prefer. If we envision a specific outcome, we move forward toward that outcome. Using imagination to visualize that goal as already achieved requires a positive feeling of hopefulness. Are we "up" for it? Do we expect it to happen? It is this simple optimistic attitude that lives at the heart of the REAWAKEN message and encourages every one of us to share our own unique genius. We are more than capable. We are each incredible, amazing, multidimensional souls with physical, intellectual, creative, emotional, and spiritual awareness. As my sailor friend, Gene Carletta, says, "We are not just meat puppets living a meat plane existence!" We are soulful and loving at our core. We have infinite potential to achieve our greatest dreams. Forward ho!
In their excellent book, Spontaneous Evolution (2008), Bruce Lipton and Steve Bhaerman teach us that today, in the 21st century, despite all the negative brouhaha, we are historically and scientifically shifting consciousness as a species in a very natural and positive way. Everything is on schedule in the 16 billion-year timeline, and now, more than ever, we each have the opportunity and ability to co-create a better world. Their inspirational metaphor is the classic caterpillar to butterfly transformation. The caterpillar represents the old, selfish, and authoritarian way of running the world, while the emerging butterfly is a more healthy, beautiful, and harmonious global reality. They preach that we are interconnected with all life, not only human, but with the earth itself.
As my great friend, Ken Little Hawk says, "We are all a part of nature, not apart from nature."
Although our human nature is too often asleep at the wheel of compassion, we can definitely reawaken and focus on the abundant love we have to give and receive with everyone and everything. As Lipton and Bhaerman state so well, we are moving from "The Selfish Gene to The Selfless Genius."
With this Movie-in-a-Book™, it is my greatest hope that you will tap into your own selfless genius with all the creativity, intuition, and sense of humor you can muster. Then, share the by-product, your own unconditional love, with everyone you meet. It is about embracing all that we hold most sacred. It is about digging into who you are and loving all that you are... the good, the bad, and the mysterious! This is not the same as narcissistic self-adoration. What I mean here is loving and honoring who you are as a thoughtful, caring human being, and giving that to those around you - more like how a happy brother and sister love and respect one another. That is how we need to treat ourselves; with kindness and consideration of who we are, with all our strengths and weaknesses.
As the "Golden Rule" says, always treat others as we wish others to treat us. Once you have that feeling of loving self-respect, hope and confidence radiates out to all life from within you. It is that unselfish love, that unconditional divine genius, that transmits the peace beyond all understanding.
As I have said before, the reality is, we are all connected. We are not separate. We are not alone unless we choose to be!
So, reawaken your good heart and share your creative genius. Share your love. Live your life with love. Live it up and reawaken the world every day with your warm-heartedness and positive energy. You do that and you will love your life and prosper greatly. I guarantee it.
~ John Pritchard, Eternal Ways - 11.22.2012

Learn more about the Reawaken book and movie at reawakenproject.com.